LEADING THE DEVELOPMENT OF SOLUTIONS FOR SSI
LOCAL ANTIBIOTIC PROPHYLAXIS
Generate constant and effective concentration of broad-spectrum antibiotic
Administered directly in the surgical wound/incision
Antibiotic persistence for 4 weeks, at the incision site
Negligible systemic exposure minimizes organ toxicity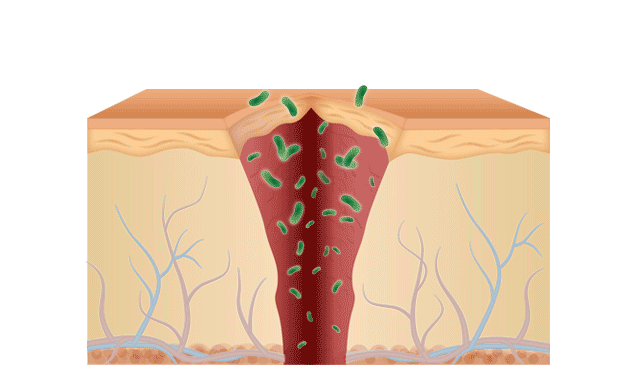 Antibiotic is delivered where it needs to be, in effective concentrations, over four weeks.
D-PLEX100 - ADMINISTRATION IS ADAPTABLE TO DIFFERENT APPLICATIONS
No training required
(May be administered locally as a powder or paste during surgery)
No additional cost/manipulation
(incorporated to existing standard of practice)
Doxycycline released at surgical site over 4 weeks at controlled and continuous rate
D-PLEX100 in Soft tissue – during abdominal surgery
D-PLEX100 IS A POTENTIAL GAME CHANGER IN LOCAL DELIVERY OF ANTIBIOTICS
D- PLEX100: Local vs. Systemic doxycycline PK –Bone & Soft tissues
The figure describes the local concentration of the free (unbounded drug) and the total plasma concentration (bounded and unbound drug) in rabbit model. The local concentration of the free drug is high and constant over 30 days (700 hours), and is three orders of magnitude higher than that measured in the plasma. Similar profile was achieved when D-PLEX100 was located in the bone tissue (sternum) as well as soft tissue (the abdominal wall).

Rabbit models: Un-bounded Doxycycline is 10% of the total Doxycycline in human, and about 14% in rabbit. A micro-dialysis probe
DRUG-RESISTANT SUPERBUG KILLS SOMEONE EVERY 15 MINUTES

Antibiotic resistance is an urgent public health issue:
According to the CDC, each year in the United States at least 2 million people become infected with bacteria that are resistant to antibiotics and at least 23,000 people die each year as a direct result of these infections1

D-PLEX100 eradicates resistant bacteria by allowing high in-situ
concentrations of antibiotics for prolonged period

Absolute resistance cannot be overcome whatever concentration of antibiotic is used
Relative resistance occurs when a microorganism in a particular body site does not respond to standard doses of antibiotic, in a patient with normal physiology and body size
It can sometimes be overcome by using higher doses of antibiotic most antibiotic resistance is relative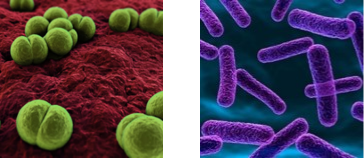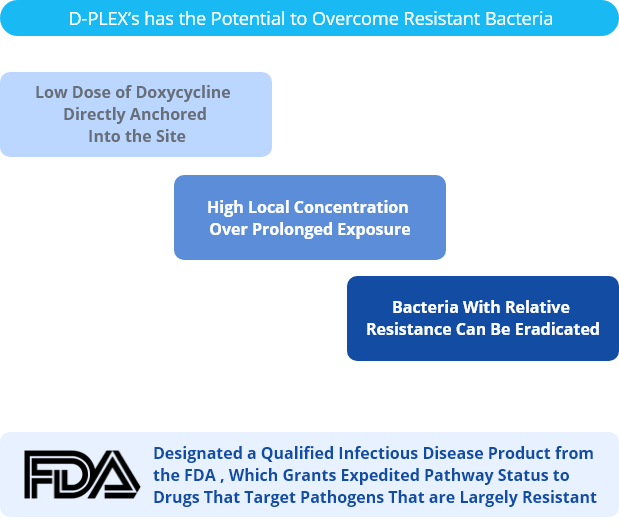 1 https://www.cdc.gov/drugresistance/index.html *Illustration showing one Patient case-study