D-PLEX100 – PHASE 2 - SIGNIFICANT DECREASE IN SSI RATE IN ABDOMINAL SURGERIES

Design: Accessor and patient blinded and double-arm randomized study
Objective: safety and efficacy of D-PLEX100 + SoC (n=100) vs. SoC alone (n=101) in prevention of incision infection post-colorectal surgery
Primary efficacy end-point: the decrease of infection rate as measured by the proportion of subjects with at least one abdominal incisional infection event, as determined by a blinded and independent adjudication committee, within 30 days post abdominal surgery.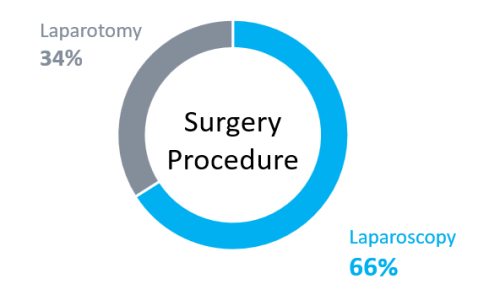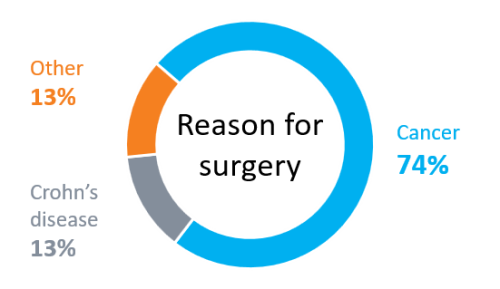 Primary End Point - infections & mortality – 30 days

5 deaths in the SoC treatment arm, as compared to zero in the D-PLEX100 treatment arm
within the first 60 days post-surgery (p=0.029). 3 during the first 30 days
* PEP is the Combined SSI and mortality rate which is measured by the number and proportion of subjects with either an SSI event (as determined by the abdominal surgery) or mortality or any reason within 30 days post index surgery.
D-PLEX100 – PHASE 2 - ENCOURAGING EFFECT ON OVERALL STERNAL WOUND HEALING

Design: Single-blinded and double-arm randomized study
Objective: safety and efficacy of D-PLEX100 + SoC (n=60) vs. SoC alone (n=21) in prevention of sternal infection post-cardiac surgery
Primary efficacy end-point: the decrease of infection rate as measured by the proportion of subjects with at least one sternal infection within 90 days post cardiac surgery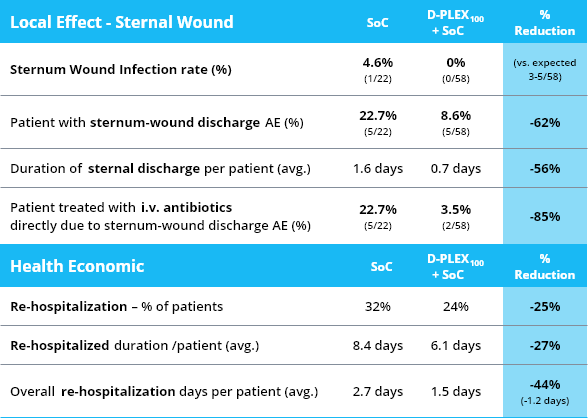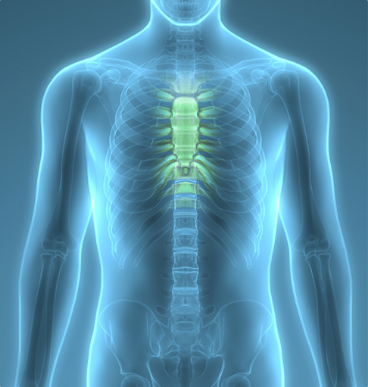 THE LOW SYSTEMIC EXPOSURE OF D-PLEX100 SUPPORTS HIGH SAFETY PROFILE
Comparison D-PLEX100 vs. Systemic administration of Doxycycline – minimal systemic exposure – Sternum & Abdominal