PolyPid is developing D-PLEX500* with its collaborator, MIS Implants Technologies Ltd., a subsidiary of Dentsply Sirona Inc., for use in periodontal and oral/maxillofacial surgeries to treat peri-implantitis, a destructive inflammatory process affecting the soft and hard tissues surrounding dental implants.
D-PLEX500 is a member of our PLEX-doxycycline family that incorporates a synthetic bone graft substitute comprised of resorbable β-TCP granules.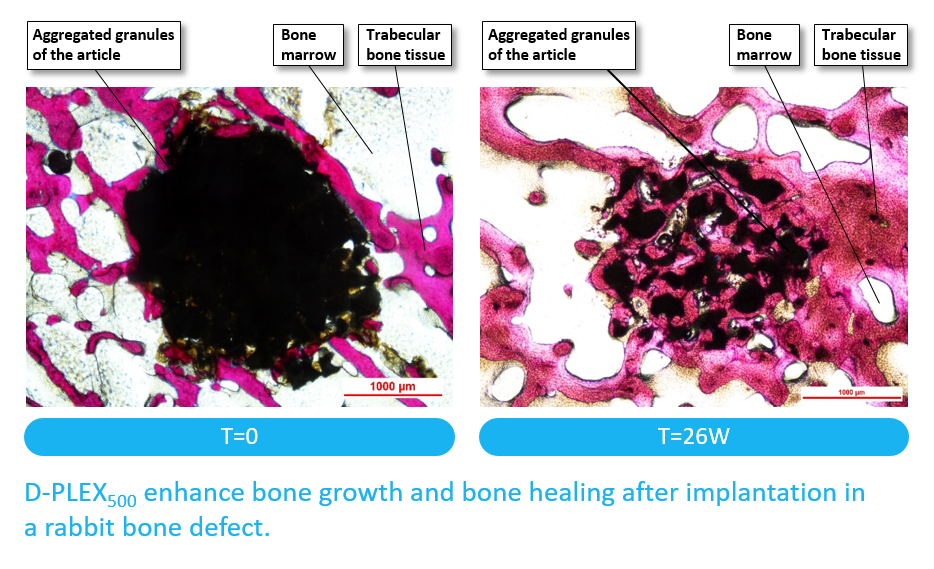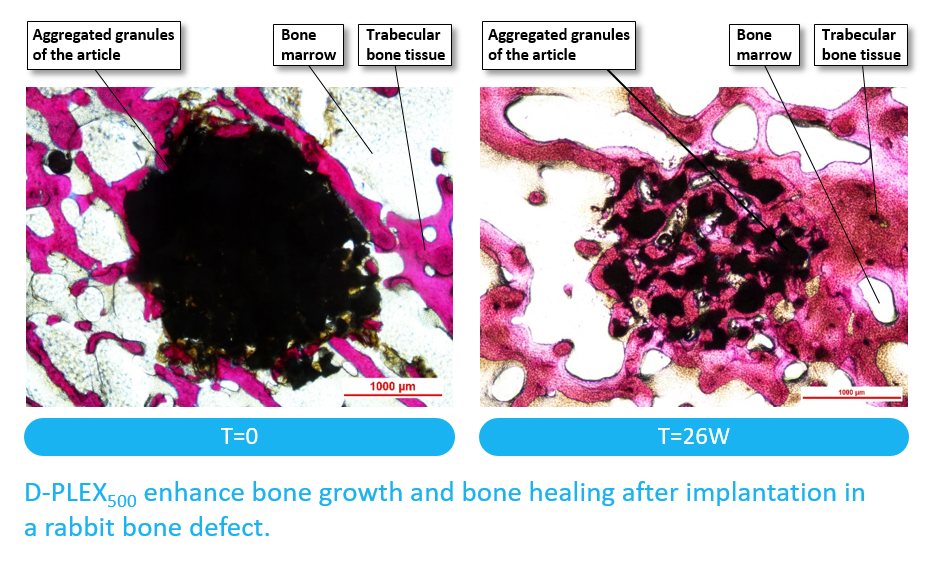 D-PLEX500  is designed to fill and reconstruct bone defects caused by peri-implantitis.
We have observed that D-PLEX500 gradually reabsorbs and is replaced with bone during the healing process.
Upon hydration in the body, the PLEX™ matrix gradually degrades and allows the antibiotic entrapped in the layers to be released constantly into its surroundings while the bone filler acts as a scaffold to support osteoconductive bone recovery.
The antibacterial activity of the released antibiotic takes place in conjunction to the osteoconductive activity of the bone substitute, and prevents its potential rejection or early absorption by bacteria-related local bone infection and protects the surface of the graft from the development of biofilm.
D-PLEX500 is not yet approved for sale by regulatory agencies.
*Formally known as BonyPid®-500
FORMULATION
D-PLEX500 formulation is well organized on a molecular level as a fine, sub-structure by self-assembly into PLEX™

LOCAL VS. SYSTEMIC DRUG DELIVERY
A low dose is sufficient to achieve a significant therapeutic effect*
SYSTEMIC FORMULATION OF DOXYCYCLINE
Recommended oral dose for Doxycycline (tablets) - 100 mg/day (total of 700 mg)

D-PLEX500 - DOXYCYCLINE
Estimated dose of Doxycycline hyclate in a single implantation - total of 6.5 mg
(Should be used in conjunction with systemic antibiotic)
BonyPid-500™ is designed to release a small antibiotic dose constantly during three to four weeks, with the overall accumulated dose being equal to about 1% of a 7 day oral antibiotic regimen.