D-PLEX™ is a secured antibiotic drug reservoir that provides a safe and effective local anti-bacterial preventive measure as well as eradication at the needed tissues or organs by administration during surgical procedures. After surgery the reservoir constantly releases the entrapped antibiotic over several weeks. In doing so, the D-PLEX™ reservoir allows for prolonged infection prevention or treatment and also has the potential to eradicate resistant bacteria, which was most recently classified by the US government as a serious global threat1. We are evaluating our indication selection with possible examples including SSIs resulted from open chest surgery when median sternotomy is performed, abdominal surgeries such as colectomy and appendectomy and chronic bone infection (osteomyelitis).
D-PLEX™ is not yet approved for sale by regulatory agencies
(1) The White House: Executive Order — Combating Antibiotic-Resistant Bacteria, Sep 18, 2014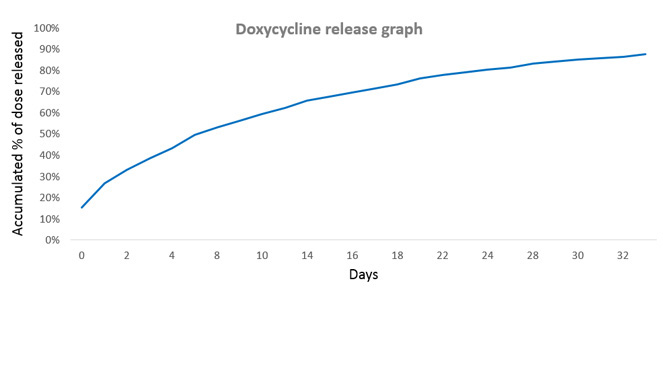 FORMULATION
D-PLEX™ formulation is well organized on a molecular level as a fine, sub-structure by self-assembly into PLEX™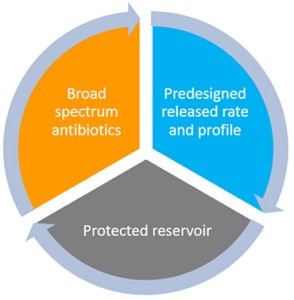 D-PLEX™ ADVANTAGES
Our ability to combat complicated bacterial challenges is based on three major features:
Ability to utilize a broad spectrum antibiotic, Doxycycline, which can eradicate many bacteria species that are common in SSI conditions
Flexibility to pre-design the release rate and release profile with high local drug concentration over a significant period.
Ability to protect the drug reservoir in the body allows the exploitation of most of the drug reservoir over the desired release period. This important feature allows the use of small and safe overall dose while keeping high and effective local concentration over time
SURGICAL SITE INFECTIONS (SSI)
While advances have been made in infection control practices, including improved operating room ventilation, sterilization methods, barriers, surgical technique, and availability of antimicrobial prophylaxis, SSIs remain a substantial cause of morbidity, prolonged hospitalization, and death. SSI is associated with a mortality rate of 3%, and 75% of SSI-associated deaths are directly attributable to the SSI1. SSIs might result in2:
Increased length of stay by 7-10 days
Increased cost per episode of up to $30K
Increased readmission rate of up to 40%
Up to ~10 times increased risk of death compared to patients with no SSI
$10 billion in annual US healthcare expenditure
Current systemic antibacterial solutions are not sufficiently effective due to low target penetration. The insufficient penetration is either temporary due to surgery related trauma to the tissue, or constant due to the nature of the target area.
(1) Awad, S.S., Adherence to surgical care improvement project measures and post-operative surgical site infections. Surg Infect (Larchmt), 2012. 13(4): p. 234-7.
(2) Kirkland KB, et al. Clin Infect Dis. 2003.