PolyPid has developed D-PLEX1000*, another product candidate from the PLEX-doxycycline family, for use in connection with orthopedic surgeries for the prevention of SSIs and support of bone recovery. Often, bone will not heal in the presence of infection.
D-PLEX1000 is designed for filling bone voids, providing effective eradication of bone infection caused by doxycycline-sensitive microorganism around the implant by constant release of antibiotics.
D-PLEX1000 is comprised of synthetic, doxycycline eluting ß tri-calcium phosphate (ßTCP) granules.It is biocompatible and biodegradable and presented in a 10 gram vial that contains 65 mg of doxycycline hyclate.
Upon hydration in the body, the PLEX™ matrix gradually degrades and allows the antibiotic entrapped between the layers to be released constantly between the granules, for a pre-designed period of at least three to four weeks.
It is serving as an osteoconductive bone scaffold supporting bone growth while gradually resorbing and replaced with bone during the healing process.
D-PLEX1000 is safe for immediate implantation into contaminated bones. As a result it has the potential to reduce the risk of infections, minimizing additional costly procedures and long hospitalizations, while enabling accelerated bone healing process.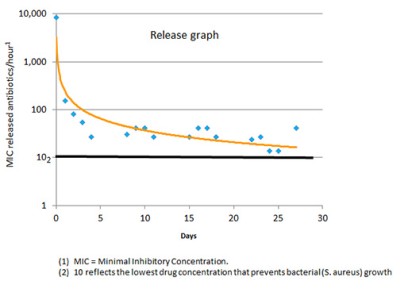 Based on data read out from our clinical trials of D-PLEX1000 thus far, none of the 34 patients treated with D-PLEX1000 developed infections in the target fracture, as compared with 26% of patients in the historical control group, and we observed a 50% reduction in bone healing time as compared to the historical control group.
D-PLEX1000 is not yet approved for sale by regulatory agencies.
*Formally known as BonyPid®-1000
FORMULATION
D-PLEX1000 formulation is well organized on a molecular level as a fine, sub-structure by self-assembly into PLEX™

LOCAL VS. SYSTEMIC DRUG DELIVERY
A low dose is sufficient to achieve a significant therapeutic effect
SYSTEMIC FORMULATION OF DOXYCYCLINE
Recommended oral dose for Doxycycline (tablets) - up to 200 mg/day (total of 6,000 mg)

D-PLEX1000 - DOXYCYCLINE
Estimated dose of Doxycycline hyclate in a single implantation - total of 65 mg
(Should be used in conjunction with systemic antibiotic)
D-PLEX1000 is designed to release a small antibiotic dose constantly for at least three to four weeks, with the overall accumulated dose being equal to about 1% of a 30 day oral antibiotic regimen.


NO CHANGE IN THE METHOD OF USE IN SURGERY
Simple preparation and use

On top of Standard of Care 
D-PLEX1000 is to be used in conjunction with standard of care in orthopedic surgeries.
PILOT CLINICAL TRIAL RESULTS SUMMARY
Study design
16 patients with Gustilo type III A & B open tibia fractures, were immediately implanted with D-PLEX1000 during the first surgical intervention (Irrigation and Debridement), and stabilized by external fixation. Patients had periodic laboratory, bacteriology and radiology follow-ups for 6 months.
Results - Standard of Care vs. D-PLEX1000

(1)  Compared to historical control at the same hospital
(2)  Compared to known literature
(3)  In Gustilo III A,B –  compared to historical control at the same hospital
(4)  At least 2 surgeries – compared to historical control at the same hospita